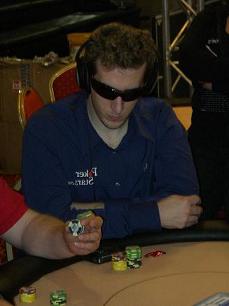 Although he may don the 'Poker Stars' brand and join the likes of Raymer, Hachem and Mercier as one of their sponsored players, the name Bertrand Grospellier doesn't mean too much to the players on the live poker scene, but in terms of online gaming, both poker and computer games, 'ElkY', as he is more commonly known, is regarded as one of the world's greatest, and that's in both fields!
Bursting onto the scene only recently, the young Frenchman (who now lives in Korea of all places) impressed not only the Poker Stars suits, but also the online community with his imposing succession of accolades and results.
Playing 12-14 tables simultaneously, it's clear that his gaming skills have been successfully transferred over into the poker world, and it's no wonder that ElkY is making big bucks from the comfort of his own chair.
Armed with a fellow gaming fanatic, Chris 'NoflopsHomer' Hall, I caught the former gaming pro just moments before his attempt to dominate the live scene. The event was the Dublin EPT, and ElkY, wearing his patented and now renowned sunglasses, was more than happy to give me a few moments of his time.
snoopy: Hi ElkY, tell us about that unusual moniker. Where does it come from?
ElkY: It's nothing complex, it's just that when I was a pro gamer I needed an alias, and the Koreans have trouble pronouncing my real name.
snoopy: You mentioned your pro gaming experience. Could you explain to our viewers exactly what a 'pro gamer' is and how that all came about?
ElkY: Well, I've been into gaming for a while now and even made it to the Starcraft Final at the World Cyber Games. It's huge in Korea, so at the end of 2001, I decided to move over there permanently. As a result, and due to making the Starcraft final, I was offered a sponsorship deal, which, means wearing the brand, doing interviews and so on.
snoopy: And what skills from that arena do you believe have served you well in poker?
ElkY: The Starcraft Final was in front of a live crowd of thousands and was even televised on Korean TV, so playing under the lights and with an audience isn't too much of a problem for me, I'm used to the pressure so don't get nervous. As with poker, there are some top gamers out there who simply can't perform in front of the cameras.
Also, in strategy games like Starcraft, you often have to make quick decisions, and when I'm multi-tabling online, this is a great skill to possess.
snoopy: As someone who is used to sitting in front of a computer screen, do you prefer online or live poker?
ElkY: I'm not a massive fan of live poker because of the waiting times in between hands. Online is much quicker and therefore suits me better.
snoopy: That's understandable if you multi-table online. But is it true that you play up to 14 tables?
ElkY: Yes, that's true. I normally play between 12 and 14 tables at once. I have one monitor, but it's a 30 inch screen, so I am just about able to squeeze them all in. It's not too much of a problem.
snoopy: Are these cash tables?
ElkY: I play all types of poker and often play multi, cash and STT's simultaneously. I like having to think on my feet and make decisions at speed, it's what I'm good at.
snoopy: When I multi-table, I find that bad beats can sometimes be hard to take, especially when they happen on more than one table at a time. Do you have much of a problem with outdraws?
ElkY: Not really, when you play so many tables, you just get used to the bad beats and become numb to them. I don't have much choice but to simply shrug them off and move on to the next hand.
snoopy: There has been a lot of fuss recently regarding the online ban in the US. As a sponsored player, is the ban something that concerns you at all?
ElkY: Not at all, I'm a European player and I am predominantly representing Stars in Europe, so I don't feel the ban really affects me too much as online poker is still big over here. As a player, it's a shame that my American opponents are going to vanish as they are undoubtedly profitable, but I'm not deeply concerned.
snoopy: Do you have any regrets from your poker career.
ElkY: I have no complaints whatsoever. I've never been bust, I've had bad runs, but nothing terrible.
snoopy Would you ever give up poker and return to professional gaming?
ElkY: No, my pro gaming career is behind me now, I don't think I'll be returning to it. I plan to play poker for the rest of my life.
snoopy: You have been hugely successful online, but are there any live players that you admire? If you could steal one of their attributes, what would that skill be?
ElkY: I have a lot of respect for Michael Mizrachi's game. He takes his time on every decision, which is probably one of my weaknesses. Playing online and being forced into action every second, it's difficult to suddenly enter the live arena where you have to wait before making one decision.
snoopy: If you could change one thing about poker, what would it be?
ElkY: The string betting rules annoy me. They tend to vary wherever you play. Actually, I think the lack of any standard rules in poker is one of the things that I'd like to see changed.
snoopy: Finally, would you ever consider dyeing your hair blonde in honour of blondepoker?
ElkY: In fact, I dyed my hair blonde a couple of years ago, but I'm afraid it wasn't in honour of blondepoker.
snoopy: Thank you for your time and good luck in this year's EPTs.