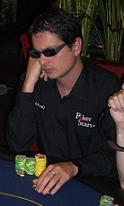 Pokerstars Team member Luca Pagano comes from an IT background and is an online-turned-live player, which makes it all the more surprising that he has glasses so cool I think they must have been designed for him, making mine resemble pieces of windshield glass held in place by baggie ties. The effortlessly smooth Luca is friendly, knows everyone, and is touted on the Pokerstars website as "a definitive picture of the new generation of poker players." These attributes don't really tally – the bright stars of the New Generation (you know who you are) tend to be a lot less approachable and laid back, ditto smooth, and yet are generally better known. I was (to hedge my bets on that statement) surprised, however, to find out how different people are face-to-face from how they are portrayed (I direct you to www.lucapagano.com, on the main page of which is a fabulously blinged up picture of him on the front of WPT Poker magazine, with what looks like an enormous left hand. And that's about all that is there, to be honest). Meeting him pre-the London EPT, he wasn't all peering with Attitude, however, but a good choice for the Stars team from a personal perspective.
Poker seems like a good hobby for someone with an aptitude for what he describes as, "tech stuff," programming, podcasts, and the like, but it became more than that when he graduated from play money to money money, and thence to the bigger games at which he can still be found (Limit Hold'em his speciality). Cashing in five EPT events caught the attention of Pokerstars, with whom he already had a "long unofficial relationship," and now he pops up all over Europe. But I kind of get the impression that he prefers playing online, and the tournament circuit might not be graced with his presence were it not for the sponsorship.
He certainly talks in the terms of one used to the way internet poker works; he likes to "play cash, especially online…it's about profit per hour," thus the world of live large-field tournaments is not his bread and butter. So just like everyone else, then. He's kept up with the developments changing the legality of online play, both in the USA and his native Italy, sounding particularly enthusiastic about the latter. It appears that 2007 will see the first laws bringing the game out of the grey area it inhabits in countries like the UK, and this at the same time as Americans are getting the online short straw. When I spoke to him, he fairly sensibly reasoned that the US would follow in the same footsteps as Italy: "First approve a law to ban, then come to a compromise. Regulation equals income…" But this was a few weeks before the full scale of the crackdown Stateside became clear – only time will tell if he was on to something.
As for other developments in the online world, he's kept up to date, as one would imagine, with the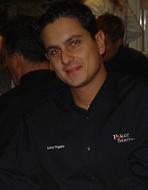 tools out there designed to promote poker self-improvement. But he blames them for the "much more aggressive style" which has overtaken the online game, and spilled over into the live circuit. He has a rather dim view of Sharkscope, and feels that the influence of these programmes is making his life more difficult (while at the same time being admittedly handy in themselves). And while on the subject of him having a hard time, he considers briefly the "disadvantage faced by players who are 'recognised' online – usually there's someone headhunting the famous people." I can see an up-side to that one, but then again, I've never had people trying to knock me out for no other reason than it would make a good story.
Finally (we only had ten minutes, sorry), thoughts turned to the World Series. Less critical than many others of the Rio and the hosting of the gigantic poker festival, he echoed Joe Hachem's opinion that the H.O.R.S.E. event especially was a "great idea, a $50k event – especially that game." Five games makes it challenging for the players, the sixth game (NL Hold'em on the final table) makes it interesting for the TV. He seems to have no problem with the way in which the two are unavoidably intertwined, or at least resigned: "The format for TV is necessary, we must accept it."
Everyone at this point decamped to the Victoria Casino, where more pre-tournament loitering occurred. And Then I Met Isabelle Mercier, who was happily chatting to Luca in the bar area...but that's another story.