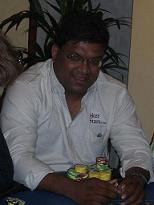 Annand 'Victor' Ramdin might look slightly intimidating on the poker table, but behind the successful, ruthless tournament player lies a friendly philanthropist, whose enthusiasm for the game comes across as clearly as his dedication to charitable pursuits. For example, he regularly joins teams of volunteers (from the poker and medical worlds) to work with the poor in places such as his native Guyana. It seems fair to mention his charity work before his poker achievements, as this aspect of his profile marks him out as focused on much more than becoming a successful, and therefore wealthy, card player – he's both aware that there's a whole world outside of the cardrooms, and sure that it's worth dedicating time and money to help those who are in need.

Victor Ramdin only picked up poker after watching his mates in the Bronx in 2002, and then fairly promptly went on to win Season Four of the WPT's Foxwood's Poker Classic; this was after just a few years as what he calls a "semi-pro," but others were quick to spot his late-discovered poker potential. When asked if the stories about his being tutored by no less than Phil Ivey were true, he responded, "Yes, that's 125% true." I picture Phil as a sort of Yoda character, who instilled in the fast-learning Ramdin pieces of Zen-like advice: "The cards dealt to you cannot change…" he offered, as an example. To be fair, this was during a discussion of how players often change their mind multiple times during a hand, and he was offering his view on this – don't do it. His strategy has evolved over his quick rise to the top of the tournament world, and now his natural read of players combined with some direction from one of the best around has brought him to the attention of sponsors.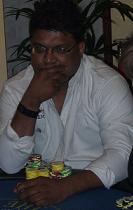 Now part of Team Pokerstars, he seems to be enjoying the EPT, and sees expansion necessary in its future – the adoption of American-style 'alternates,' and a "rotation of countries" hosting more events. His online practise: sit'n'gos, "lots of sit'n'gos, including heads up." He's also enthusiastic about the increase in 'niche' games, on and offline, especially the H.O.R.S.E. A grin was on his face as he talked about how good it was to be an all-rounder, when so many people trying out these styles of multi-game tournaments were only really proficient in one or two. So he's got them all pinned? "I reckon I'm playing at 80% capacity," he said, admitting modestly that he's not so good at the less popular games. But with other people playing at far less, considering the domination of No Limit Hold'em right now, online especially, he's a fan. I asked him about this domination – did he think the other games would catch up as people (re)discovered Stud and Omaha – and he thought they'd get close, but "No Limit will stay top of the list."
"Poker is the American pastime," said Victor, when asked whether he thought the USA (his home) would really try to enforce an online ban. "It can't be banned. Everyone plays – there are mamas and papas games once a week," and with the internet even harder to track, it's inconceivable to him that the game could be made illegal. Perhaps the kitchen table poker he reckons is occurring throughout the States will actually grow in popularity if the threatened ban proves effective. It seems that poker's found a recent but formidable ally in the businessman turned gambler Victor Ramdin, and a humanitarian one at that.