The start of my poker "profession" was not very impressive as I was the weekly loser to the rocks in the local game of cars dealers in Ft Myers, Florida. I played to win, although a win or lose of $2,000 or more was not uncommon, I also played for the fun. It was not until my brother, Brad, held his bachelor party in Las Vegas in May of 2004 that I would learn to love the game and have dreams of playing it at the highest levels possible.
In May of 2004 I walked into the Horseshoe and magically won my seat to the main event, the biggest comp ever held, the most fun I had ever had "gambling". My background in gambling was that of a bookie in college and a rather large blackjack player after I had a real job with real money. But I never really got the competitive experience from these things that I got out of poker. It's me against you and I want to kick your butt multiple ways. I will play anyone, anywhere, any how, as long as I know I have a chance to win.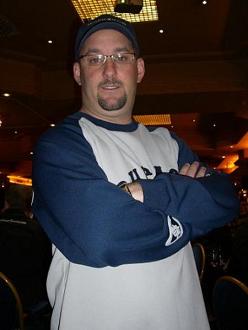 Then in September 0f 2004 I won a trip to Estonia that would have a great impact, not only on my poker, but my life in general. There I met Dave Colclough, had a blast playing poker, and made up my mind that poker was for me. I also made a friend that would open up the poker world to me in ways that I never could have expected. DC was to become my mentor and friend, and unbelievable things were to happen very soon.
I played as much poker as possible, both online and live, from January 2005 until the WSOP in June of 05. I also followed DC all around the USA when he was here to play. I would play all the small secondary events; try to win a seat in the main events, and railbird DC when that did not happen. In April while playing a $2,000 no-limit event at the Plaza I made my 1st live final table of any consequence. DC also made the same final table and it was teacher vs. student. (I bad beat him twice to knock him out. I know he was not happy about it!) Then it was back to the Rio in May for the WSOP.
I got off to a great start at the WSOP by winning about $70,000 in the first week by playing SNG's and mega events. I was on cloud nine, it was all good. I followed that with 2 weeks of losing and bad beats, then I entered event #20 on the 20th of June 2005. The number 20 had been my lucky number for 25 years. I did not even realize this coincidence until after the event was over! The WSOP $5,000 pot limit hold em, and as it turns out the very 1st pot limit event I had ever played in my life.
The event had every top player, no internet qualifiers, it was amazing! I made it out of the 1st day in 5th overall position, went to the final table as a co-chip leader, and played the deal my way. DC and Rhow were there the whole way along with Paul Maxfield, Steve, The Hux, Kyle and a few others. I played some of the best players in the world with Allen Cunningham, Cindy Violette, John Gale, and Joe Sebok at my final table just to name a few. as Dave wrote in his diary "is it possible that my rookie will win a bracelet?". Yes DC it is possible, I did do it, and it is your turn next year. I will be there on the rail, the entire time, hoping my mentor can catch his student in the bracelet standings. Oh, and the reason meeting DC had such an effect on my life? I had never been to the UK or even thought about it until I met him and poker came into my life the way it has. Thanks DC, thanks for everything!