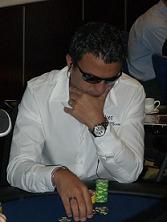 Joe Hachem was up before midday (how Pokerstars work their Stars!) and sat in the rather lovely café in the Langham Hotel, fielding questions from us reporters with the same patient good humour he displays in general on and off the table. On the road for a good while now, he seems pretty relaxed at the hub of the ever-growing tournament players' circuit, although some tiredness must have been creeping in. He admits that it's about time for him to take a bit of time off travelling (but not working, of course), and is heading back to Australia for three months. "When you're married with four kids, it's tough on the road," he admits, and is as down to earth as it's possible to be when you've won the WSOP Main Event and immediately become a celebrity in your home country, and to the poker-playing world in general.
As far as the Australian poker boom, for which he was undoubtedly the catalyst, he admits that encouraging it is "part of my goal and my responsibility." Apparently they are testing the market in New South Wales, and the rest of the country is probably ready for a tour. I can't think of a better figurehead and promoter for something like this – he came across as dedicated to the cause, and he's as recognisable, and as popular, as any Big Name Stateside.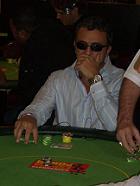 So does he have something to prove, now that he's in that enviable/unenviable position where every player kind of wants to knock him out? Not really – he's comfortable with his profile, and says, "The feature table gives me an advantage. I just play my normal game," something easier to do, I reckon, when you've done it many times before, under the sort of extreme pressure of, say, the WSOP final. As for the final, I asked him kind of generally, in a leading sort of way, what his opinion was on deal making. He said, "There are times when it's viable and times when it's not." So, Joe, when is it not viable? "The final table of the Main Event. I was asked to deal three times and refused." It seems that he was in it to win it, and the structure meant that his usual relaxed attitude to deals needn't have applied. He says that when there are a few players left in a 'normal' tournament, he can see the point in dealing when the blinds are big etc. and "tossing a coin for a big difference in prizes" makes less sense. He's never the first to suggest it, though.
Joe Hachem has now clearly become accustomed to both the media attention and the tournament playing lifestyle, but even before winning the most famous comp around he had his sights set on just that. He always had as a goal to go on tour, and it just happened sooner. With just hours to go before he was to take his seat in the EPT event at the Vic, I managed to get a couple more questions in – what about online poker?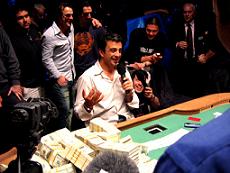 "I had to learn how to play online," he said, having, however, been no stranger to live poker for many years, as well as running home games. So different was the online experience, that it needed retraining – and now it seems that's complete, as he's playing the big No Limit Hold'em games, six tables, for two or three hours at a go. It warmed my heart to hear him say that he'll also go for Pot Limit Omaha 8/Better, and, "when I'm feeling really stupid, Pot Limit Omaha High." The live game which he says bears most resemblance to its online counterpart is short-handed NLHE, but that may be something to do with its popularity stemming from the crowd playing this online.
As he ate his lunch (a sandwich, which, I am delighted to report, he gave me a quarter of) I mentioned the Pokerstars ad I saw him in, in which he's wearing a white coat and posing as his Day Job – chiropractor. Did he have any tips, as such, for the hordes of hunched poker players grinding away online or sat round a table for days on end? He said that there were a lot of unhealthy types playing poker (well, I'll be darned) and that eating well and looking after oneself physically generally were important. Sitting up properly during 12-hour days at the EPT isn't exactly easy, but it's good common sense advice from someone trained in the field to try to maintain it. I'll be keeping an eye on his posture as well as his chip stack next time I'm reporting on Australia's biggest, and most congenial, poker star.