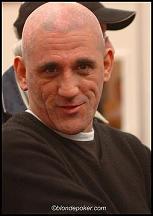 As most of you will already know, Simon 'Aces' Trumper isn't just your average blondeite, nope, in fact Simon is one of European poker's most renowned, and liked faces on the circuit. Everybody in the game recognises the name 'Trumper', and quite rightly too. His Late Night Poker successes alone make him a highly respected figure within the poker community which, within an 11 year career, has enabled him to amass quite a following.

Simon witnessed the poker explosion first hand as he sat at his Late Night Poker table. After winning Series 2, little did he know how much of an influence the show would have and how big the game would become. But, several years on, how have things changed? Is he still the same person, does he embrace the frenzy, and did he ever think that poker would be so big? Time to find out.

snoopy: Recently, you have been known to frequent the commentary box. Is this something you wish to do on a more regular basis? Do you prefer it to playing and would you ever consider swapping playing for commentary?



Simon: I do enjoy doing commentary and would like to do more, i have done 19 shows now with Jesse May as well as co host with Padraig (right) at The Irish Open live on Sky Sports in April. I still prefer playing but i feel my role will change more towards TV and especially Dusk Till Dawn so that eventually playing will take a back seat.

snoopy: I hear you have taken up online poker? If this is true, how difficult have you found the move from live to online, and what obstacles have you encountered?

Simon: As usual when you try anything new there is a learning curve. I asked a lot of online players for advice and then tried different things, I found the games can be easy to beat at medium stakes but it is a mistake to then step up to the higher level cash games, it is so easy to just reload. You also need to put in a lot of hours which I prefer to do live rather than online, however i have only played cash so far. I will be trying tournaments when i get back from this year's WSOP.

snoopy: Late Night Poker has recently made a return? Did you expect the whole LNP phenomenon to be as big as it was?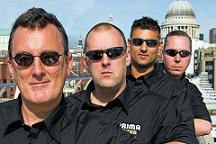 Simon: Not really, when we filmed Series 1 many players were of the opinion that we were being exploited. My view was that TV exposure could change the game and attract future sponsorship so, like The Hendon Mob and others, I supported it. The producers kept their word and all that played Series 1 were invited for Series 2, by then there was a long list of players wanting to get on. Winning Series 2 and coming 2nd in Series 4 definitely helped my career and I am sure that all the repeats have attracted many new players.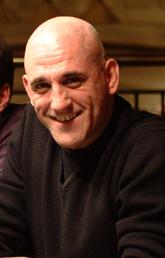 snoopy: In his recent book 'Swimming With The Devilfish', Des Wilson brings up the subject of Late Night Poker and says "One night you find Simon on channel A with a black ponytail, looking like an ageing hippy, and the following night you find him on channel B with shaved head, looking like a serial killer." How do you plead?

Simon: The ponytail on reflection was a joke, my new image enforced by alopecia does make me look like a gangster I guess, but serial killer is pushing it. I might look tough but I still cried watching Pretty Woman!

snoopy: You have always been open and honest about the times you have gone broke in the game? What did you learn most from your most recent experience of financial difficulty?

Simon: Listen to your friends, be brutally honest with yourself and don't be scared to take a break, the game will still be there when you are ready to come back.

snoopy: Do you prefer pre or post-boom poker? Why? Can the old guards compete with the young guns?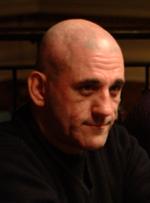 Simon: Most of my success, especially in No Limit came pre boom. In my opinion, this was because I was a fearless player who had an aggressive style which worked well against the predominantly tighter players, most of whom had been playing for years and were not willing to adapt. Today when I sit down, over half the table have an aggressive style.
Instead of just trying the game, these guys are students of poker, reading books, forums, constantly thinking about their games and ways to improve. Couple this with bigger fields and the luck factor that has to be overcome more often and you soon realise why so many new players are winning. However, i wouldn't have it any other way, the explosion in poker has been great for me and I like the challenge of having to adapt to the new styles. To win today, especially at the WSOP, would mean more to me than it used to.

snoopy: What is the best advice you can offer to any up and coming poker stars?

Simon: Don't believe off the back of one win you are suddenly a great player, I am still learning 11 years into my career. If you really want to succeed, work at it.

snoopy: Who are your top tips for success at this year's WSOP? Who is the player who currently impresses you the most?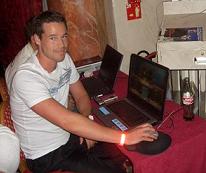 Simon: Over the last 3 years more players have emerged from the Internet route, some of these have played more hands in 3 years than I have in 11, they are hungry to learn and improve as well as young and fearless. One that has impressed me is Patrick Antonius (right).

I see these guys doing well in the shortstack events up to $2,500 and the $10,000 Championship event as they are prepared to gamble to get chips early. In all the other bigger buy in events ie $5,000 No Limit, Pot Limit and $10,000 Pot Limit Omaha I think live experience will show and 'name' players will be dominant. I expect more bracelets than ever to go to unknown players who, although we may not know them as live players, are well known among the Internet community.

snoopy: What are your thoughts on the Barry Greenstein incident now the smoke has blown over?

Simon: As Doyle Brunson answered when asked "It worked didn't it?"

snoopy: If you had a time machine, would you go back in time and change your career choice, or have you always been happy as a professional poker player?


Simon: I am sure i would have made more money if I had stuck to business but my philosophy is you only live once so do what you enjoy with no regrets. I am disappointed not to have had a really big win or won a bracelet, but on the other hand i have travelled the world at least 3 times, most of it paid for by sponsors and I have enjoyed every minute. The fact that Rob Yong has asked me to be host and Live Poker Director of Dusk Till Dawn is a great honour and to be able to combine business and poker will be perfect for me, I am certain the club will be a huge success and can't wait for it to open.

snoopy: What are your greatest moments in poker?

Simon: Winning Late Night Poker

Playing 3 1,000 No Limit events in 2001 between March and July, winning 2 including the EWSOP in Vienna and coming 2nd in The Grand Prix in Paris .

Inaugral winner of 'Tournament Performance of the Year'.

snoopy: What is the biggest regret in your poker career?

Simon: I made the European Championship 2,500 No Limit final at The Vic in 2002 and also the 5,000 Euro No Limit final in Paris in 2002, both with over a third of the chips in play and blew it coming 7th and 6th .

snoopy: Which exit or bad beat hurt the most?

Simon: There are two, The Poker Million where John Duthie won 1,000,000, with 9 left i called a crippling bet from Tony Bloom, we both had a flush, and last year in the first ever $10,000 Pot Limit Omaha at the WSOP, I came 5th when Derek Baxter made runner runner full house - i couldn't talk i was so gutted .

snoopy: What are your thoughts on blonde and the community we have here?



Simon: The community is 'blonde', the growth of this site has been so fast because of the work that has been put in by its members, helping with the forum and the live updates. Dave and Tony created a site that filled a gap and probably never realised the work that would be required to keep it going. Sometimes I think the forum goes off topic a bit but generally it is obvious that blonde has attracted a really nice bunch who enjoy their poker and the social aspect as well.

snoopy: Where does the trophy from the blonde Bash sit in your house?

Simon: It was in my trophy cabinet but, as I have recently moved, it is currently boxed up as I will be moving again to Nottingham in readiness for the club. It will probably go on display in the club then.
snoopy: Thank you for taking the time out to answer my questions and good luck for the future.