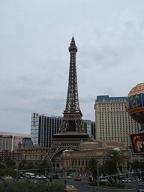 On Sunday I managed to only play one $525 single table satellite. With 2,000 starting chips, I had 2,700 chips 3-handed and was offered $1,050 in a deal. Now at this point in time I figure my chip equity to be just under $700 (2,700/20,000 * 512), so I took the deal. I consider a winner takes-all single table sateliite to be similar to a cash game in that at a fixed point in time your tournament equity is directly proportional to the number of chips you have, which obviously is not the case in tournaments with staggered payouts.
Every deal I have made so far I have received more than my equity at that point in time which makes these things even more profitable than they would be anyway. This is not precisely true, you could say you have more equity than your chipstack if you have the button next hand, or if any of the remaining players are liable to make mistakes in future hands (obviously pretty likely). Still, I think it's a good rule of thumb.
On July 3rd we planned to go to the Bellagio to play the $1,000 daily tournament. However, chronic disorganisation on my part meant I didn't enter the tournament. When I got to the front of the queue I could have been 20th alternate, but decided against this and went shopping for some long-sleeves instead. A tip for anyone coming to the WSOP - bring some long sleeve tops. Although the temperature outside is boiling, inside the Rio cardroom the air-con makes the place pretty cold if you are wearing just a t-shirt.

I eventually made it down to the Rio cardroom about 7pm after catching up on some much needed sleep beforehand. I registered for a $525 satellite as usual and found myself at a table with two WSOP Main Event winners - Robert Varkonyi (right) who I recognised and Brad Dougherty (the 1991 winner). Dougherty exited in a typical coinflip situation, Varkonyi seemed to play well until in the big blind he called an utg raise from a tight player and, after a raising war on the flop, got the lot in with K-4s on a K-Q-7 rainbow flop, and didn't improve against the preflop raiser's A-A. Easy fold preflop for me there, but then again what do I know as I don't have a bracelet. 3-handed I had slightly less chips than the other two but an equal 3-way split was agreed.
I played one more $525, and with blinds at 150/300, I got the lot in against an aggressive small blind when I was big blind in an unraised pot on a Q-9-7 flop. Unfortunately this time he had flopped top pair, and my J-T didn't hit the straight.
In other news, Martin Green (left) has told me to post a daily TJ Cloutier watch in each blog and who am I too argue. Two nights ago, Martin tells me TJ went on massive tilt at the Rio dice table. An inexperienced player apparently had his hand dangling in the pit, which the dice duly hit and produced a 7 (this means the house wipes everyone out). TJ went ballistic, apparently someone was looking at him a minute later as he recognised TJ from the telly and TJ squared up to him shoving his finger in his face.
Yesterday, when we went to the Bellagio, imagine our shock when as we walked through the casino - there was TJ at the dice table! He is a permanent fixture in the Rio, so seeing him there aswell was just crazy. At 11pm last night, while i was playing a satellite, I was surprised to see TJ lumbering through the satellite area looking around. Yes he had done his money on the dice and was looking for somebody to nip. So embarassing but unfortunately true. Rumour has it he nipped Willie Tann, though this is unconfirmed. An hour later, as I walked back to my room there he was with $100 in front of him back on the dice.
So why the fixation on the embarassing activities of TJ Cloutier? Well, if you look at his poker record
here
, he has cashed for $6.8 million. He has won 6 WSOP bracelets and is 5th in the all-time WSOP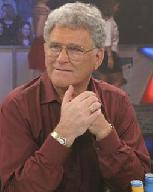 money list, and 4th in the all-time money list. And yet it would appear he has given all his profits to the casinos by playing dice. I have never been interested in playing casino games and observing TJ over the past week should be enough to stop anyone going down the same road to ruin.
At the time of writing, it is approaching 2pm. Martin Green will be downstairs playing in today's event, the $5k NLHE. I had no intention of playing this, so far I am $4.5k down in MTT's here and this buy-in is simply too steep for me to justify. Dubai was planning to play this one, however he is still in bed now as last night we somehow lost track of time as we went to Ghost Bar on the rooftop of the Palms Casino, again plenty of nice views, we finally rolled back into our room at 7am.
The number of Brits in Vegas is increasing by the day, I have played in very few festival events back in England so I don't recognise all of the players. I have however spotted Nick Gibson, and met quite a few southern based players including Racing Ronnie and Ed Giddins.
Today is Independence Day which means a big night out in America, so the plan is a couple of single table satellites before these English gentlemen get involved in some of tonight's carnage.
[Ed note: To read the rest of Rob Sherwood's WSOP diary, please click
here
]