I first met Roland at the Gutshot a couple of years ago, trading in borderline moodies with the regulars and playing in the characteristically aggressive style which a month ago led to his win at the WPT Grand Prix de Paris. He had previously popped up here and there as a journalist for Inside Edge, but something gave the impression that playing full-time was the direction he was inevitably heading. Trained for writing in a journalism course at Brighton, he was also trained in gambling through a youth misspent cutting class to nip to the bookies and experimenting with "wild cards and stuff" at homegames and the back of snooker halls.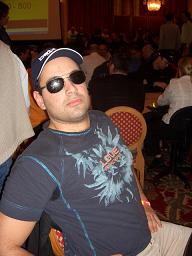 This early education combined with a dissertation in the style of a gambling magazine made him the ideal candidate for the Inside Edge poker correspondent, so after some work experience at Esquire magazine he jumped on board, gaining some insight into life travelling the circuit as he followed it. He found his way onto the Party Poker Cruise, and thenceforward played more and more, having started with an Esquire Poker Night with Special Guests Al Alvarez and Roy Houghton, which he won. He also had considerable success in the first Gutshot festival, and came 6th in a £500 rebuy event at the Vic. Concerning his early successes, Roland admits, "I didn't know what I was doing, but I thought I was pretty good."
In between travelling, Roland honed his game playing against his Inside Edge boss Warren Wooldridge in his lunch breaks, and "big Scandinavian players" on the internet, specialising in no-limit hold'em at increasingly high levels, and is now a keen advocate of 'multitabling.' In fact, he's ended up being something of an affiliation magnate too, savvy to the rewards of rakeback and not afraid to approach people concerning this sideline to the game itself. All this while moving to work for Cardoza and then, as of May this year, turning pro.
He qualified for the World Series at Gutshot on his third attempt (I remember his final table exit of one qualifier with KK vs AK which he took remarkably calmly: "If you don't want outdraws you shouldn't play poker.") He considers that he's played seriously for about three years; at only 26 he looks to be moving out of the up-and-coming category into professional player along with a wave of younger aggressive players stirring up the Tours.
One such player is Juha Helppi, whom he found himself heads up against in the French WPT final. Having tried to knock him out, twice, he admits Juha was the last person he wanted to see make the final two. He asserts, however, that "I'm not scared of anyone," and this is clearly advantageous when playing against a top international field such as that which descended on Paris. Having secured the near half-million Euro first prize, his confidence is surely further bolstered (Surinder Sunar, John Gale and the Devilfish are the only other U.K. players to have gained WPT victories) and his intention is to follow the big tournaments he's always wanted to play. His eyes are on Los Angeles' Bicycle Casino ("No-one's ever won back-to-back WPTs…") and then the $25,000 event at Bellagio in April, the entry to which was a nice bonus prize for his Paris win.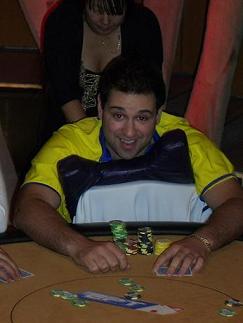 "Online I'm a cash player," he says, "And playing a deep stack resembles cash play." He definitely likes to get busy early, uttering those lines with an oddly familiar ring to them, "I'm a good chip gatherer, or I'm out early. Like now." (I caught up with him at the Victoria Casino's bar after a near-immediate exit from the £1000 no-limit comp. His, not mine). He was clearly still buzzing from his first major win, and heading off on holiday, but found the time to answer a couple of, I admit it, fairly boring questions, one sockless loafer dangling over the side of the armchair… "My biggest strength is knowing when to value bet." "I admire Barry Greenstein and Bengt Sonnert." "I recommend reading Harrington or Super System Two."
With that out of the way, I asked him, with mild apprehension, whether he'd still be reporting on events he played, or writing for sites and magazines. After all, a circuit-following pro who comes ready-trained to write up his own reports makes me a bit obsolete. "I'm not going to be picking up a pen too much," he says, much to my relief. It is clear from talking to him that he enjoys the freedom of being his own boss and playing what he wants, when he wants.
As I left the bar, I happened to overhear one last comment from the new WPT champ: he confided to the Camel that "It's a great time for me to swap percentages 'cos everyone thinks I'm a good player." And he's in a position to play whatever he likes now – backing or no backing expect more top finishes or early baths soon.